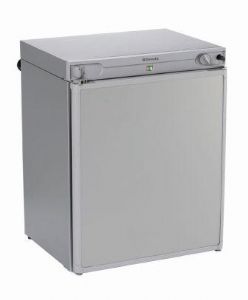 Dometic 3-way refrigerator
Camper van and motor home refrigeration.
Cool boxes, coolers and 3-way fridges for self-build DIY camper, motor homes and motor caravans.
There are basically three types of fridge that can be used in your camper, motor home or surf bus to keep your beers and other essential supplies cold.
The first way is to use a compressor type fridge. This is the same type of fridge that you use in your home. On the upside theses types of fridge are generally much cheaper than absorption type fridges (we'll come to those next) and because they only run off mains electricity it won't be necessary to cut holes in your van for gas drop out vents and flues. On the downside you will only be able to run your refrigerator whilst on the camp site mains hook-up facility and compressor fridges can be noisy (although advances are being made in this area) and might keep you awake at night.
The second option is to use an absorption type fridge which is the type most commonly used in professional camper and motor home conversions. The upsides are you will be able to use your fridge anywhere because they can work on gas, electric and 12 volt - hence the term commonly applied is 3-way fridge. The 12 volt facility is designed to operate when the vehicle engine is running to keep your food and drinks cool between camp sites. Absorption/3-way fridges run silently as the unit is kept cool by the liquid inside rather than a compressor. The downsides? Well, they are usually very expensive you'll probably be looking at £500 plus for a basic, new model. Alternatively, you could try and locate one second hand out of a defunct camper, motor home or caravan, but it will be very hard to verify that the fridge is working properly before you buy, so there's a risk element in this approach. Also be aware that if you plan to use your absorption refrigerator in gas mode it will need to be vented and you will have to cut holes in the side of your van.
Lastly, you could just run a cool box like the ones used for a picnic or day out at the beach. Cool boxes are available in many different variations, costs, capacities etc. and most can be run on either mains electricity, 12 volt or both. The major upside of this cooling option is price - a suitable, new cool box can be purchased from around £50 upwards and if your short of space in your self-build/DIY campervan there are obvious advantages due to their compact nature and portability. The downsides are that they are not as efficient as compressor and absorption refrigerators, and also, cool boxes usually have an internal fan which can be noisy and they will run your battery flat quickly if run solely on 12 volt due to the high amps they consume.
The main suppliers of camper van and motor home refrigeration products are Dometic, Electrolux (now part of Dometic), WAECO, Mobicool and Thetford. All these companies supply a complete range of compressor fridges, absorption fridges, cool boxes for 12 volt and 24 volt electrical systems.